Capstone Design Teams Archive
Spring 2022 Capstone Design Teams
Four capstone design teams are currently working on biodevice-related projects this semester, sponsored by the Center for Biodevices Innovation Grants.
Computational Validation of Functionally Graded 3D Printed Rib Fracture Fixation Implants
Sponsor: Dr. Guha Manogharan, Emmert H Bashore Faculty Development Assistant Professor of Mechanical Engineering
Students:
Nandini Patel - Biomedical Engineering
Addison Rossi - Biomedical Engineering
Elena Lagunilla - Biomedical Engineering
Mason Procz - Biomedical Engineering
Trevor Klemann - Biomedical Engineering
Gavin Kelly – Mechanical Engineering
Wesley Matsuka-Williams – Mechanical Engineering and Biomedical Engineering
Designing and Prototyping of a hand-held extrusion bioprinter for in situ translational tissue regeneration
Sponsor: Amir Sheikhi, Assistant Professor of Chemical Engineering and Biomedical Engineering
Students:
Tina Maranas – Materials Engineering
Hamed Jabri – Mechanical Engineering
Oscar Dong - Biomedical Engineering
Andrew Smyth – Mechanical Engineering
Will Roberson – Materials Engineering
Jordan Thenga – Electrical Engineering
Johnny Christian - Biomedical Engineering
Stretchable rectennas to harvest ambient RF energies for wound healing stickers
Sponsor: Larry Cheng, Assistant Professor of Engineering Science and Mechanics
Students:
Jeremy Cherian – Computer Engineering
Joseph Espinosa – Computer Engineering
Dylan Knowles – Computer Engineering
Thomas Nguyen – Mechanical Engineering
Matthew Quigley – Electrical Engineering
Laparoscopic Trainer with Haptic Feedback
Sponsor: Scarlett Miller, Associate Professor of Engineering Design, and Industrial Engineering
Students:
Olivia Carsia – Biomedical Engineering
Kara Miller – Biomedical Engineering
Kefan Wu – Electrical Engineering
Aaron Wyatt – Electrical Engineering
---
Spring 2021 Capstone Design Teams
Six capstone design teams completed biodevice-related projects in capstone design courses in the spring 2021 semester.
---
Fall 2020 Capstone Design Teams
Two capstone teams completed biodevice-related projects in capstone design courses in the fall 2020 semester.
Design of test fixtures for protective devices used in endoscopic skull surgery, Penn State Center for Biodevices (watch the video)
Improving estimates of PPE stocks, Penn State Manufacturing and Sterilization for COVID-19 (MASC)
---
Fall 2019 Capstone Design Teams
Five undergraduate student teams completed biodevice projects in Dr. Mary Frecker's engineering capstone design course in the 2019 fall semester.
Heart Rate Monitor, Penn State Wrestling Team
Walking Speed Sensor, Penn State Physical Medicine and Rehabilitation
Lead Apron Support, Medtronic plc
Bioaerosol Sampler, Penn State Department of Veterinary and Biomedical Sciences
Noncontact Sensor, Penn State Department of Biomedical Engineering
Learning Factory Design Showcase: Best Project Award Winners: Heart Rate Monitor team and Walking Speed Sensor team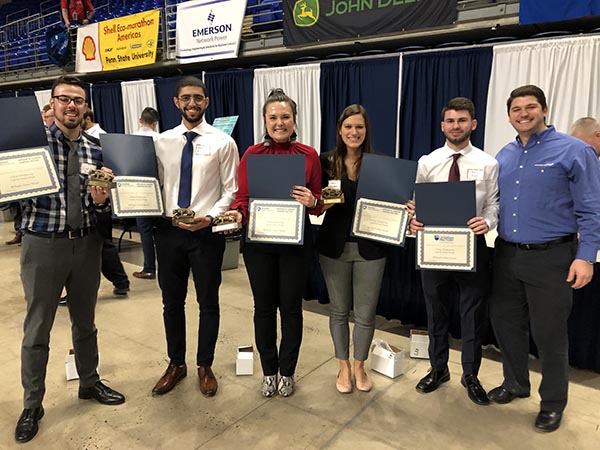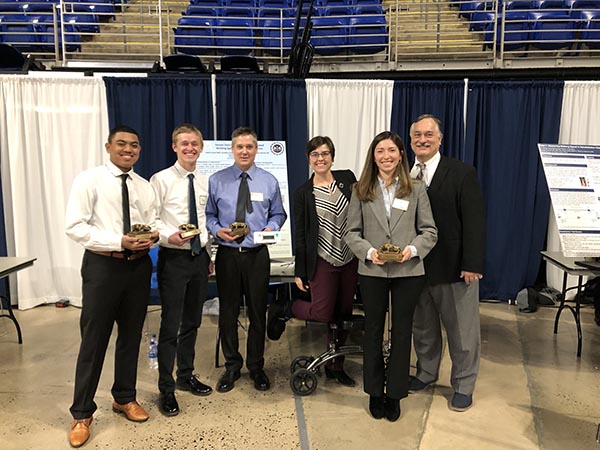 Faculty who are interested in working with a team of students on a capstone design project can learn more about it on the Learning Factory's website.
---